[vc_row][vc_column][vc_column_text]
[/vc_column_text][/vc_column][/vc_row][vc_row][vc_column][vc_column_text]FOOTSTOCK is a relatively new product, having only been on the gambling scene since late 2018.
The product was only finalised and delivered in April 2019, so it's probably not surprising if you haven't heard of it.
With low interest in the product, due to its infancy, you're actually doing the right thing by researching FOOTSTOCK and finding out what it's all about.
This is where FSG can step in to help you understand FootStock & ease your mind, as this is no scam, or illegitimate in any way.
Today I am looking into the background of FOOTSTOCK, showing you exactly who FOOTSTOCK are, how they make money and so on.[/vc_column_text][/vc_column][/vc_row][vc_row][vc_column][vc_column_text]
Are my funds on footstock protected?
100% yes. Your funds are secure.
FootStock initially launched in Germany, but it's super difficult to get a licence in Germany, so they have decided to obtain one in the United Kingdom.
The UK Gambling commission are also very tough with their Terms & Conditions, but not as much as ze Germans!
The great thing about the Gambling Commission is that they regularly request statements from all companies with a gambling licence, confirming that customers funds are safe.
Customers funds must be held in a separate account which should remain untouched, as per the terms and conditions of the gambling licence.
It sounds very boring, but this is something that's also very mind-easing!
You know your funds will be safe.
Remote operators who hold customer funds

In addition to the above requirements, if you are a remote (online) operator you must also:

hold customer funds in a separate account
report information about customer funds as part of your overall quarterly regulatory returns. This includes a breakdown of customer funds relating to customers in Great Britain and those relating to customers outside of Great Britain.
[/vc_column_text][/vc_column][/vc_row][vc_row][vc_column][vc_column_text]
do you have proof they have a license?
Sure thing! You can check gambling licences online, so here's the screenshot of their Active – Remote License.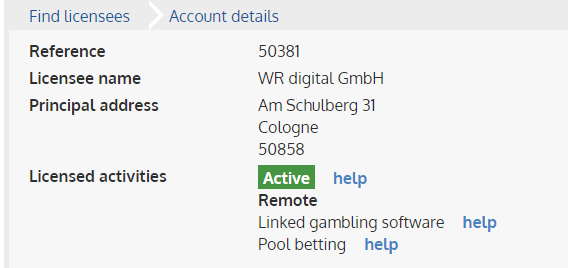 FootStock have also applied for a Casino license, as this is required for them to be able to implement the Top Trumps Trading card style game.
Casino Licenses are incredibly hard to achieve, Licensees must jump through many, many hoops in order to acquire one.
Till has assured us all that the paperwork has been completed for this, which means the Casino area will be active any day now![/vc_column_text][/vc_column][/vc_row][vc_row][vc_column][vc_column_text]
why did they request money on indiegogo?
FootStock used IndieGogo as a means of 'free advertising', to an extent.
Indiegogo is a crowdfunding platform, so FootStock decided to advertise their player packs on here.
Users that have invested early will get cheaper packs, better players & be able to access the BETA of the FootStock website.
This method of advertising has been pretty effective, initially FootStock anticipated around £5,000 of Player Pack Sales.
However, it seems to have been a BIG HIT.
They have recently surpassed
£32,000
in player pack sales from early backers.[/vc_column_text][/vc_column][/vc_row]